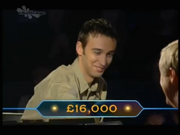 Calum Davidson, from Perth, Scotland, was a contestant on the show on November 5-6, 1999. He walked away with £16,000.
WWTBAM Run
Edit
Fastest Finger First
Edit
Fastest Finger First Question
Starting with the earliest, put the names of the spouses of these prime ministers in the order they occupied 10 Downing Street.
• A: Denis Thatcher
• B: Clementine Churchill
• C: Mary Wilson
• D: Norma Major
From the 9 contestants, 7 got it right, but Calum (with a time of 6.52 seconds) was the fastest to correctly answer B-C-A-D, making it into the Hot Seat.
Calum's Run to the Million
Edit
£100 (1 of 15) - Not Timed
What do giant pandas mainly eat?
• A: Bamboo shoots
• B: Prawn crackers
• C: Egg fried rice
• D: Portion of number 28
£200 (2 of 15) - Not Timed
Of which country was Charles de Gaulle a famous leader?
• A: Canada
• B: France
• C: Spain
• D: USA
£300 (3 of 15) - Not Timed
What is the highest scoring ball on a snooker table?
• A: Green
• B: Yellow
• C: Pink
• D: Black
£500 (4 of 15) - Not Timed
In 'Coronation Street', what is the name of Jack Duckworth's wife?
• A: Rita
• B: Emily
• C: Betty
• D: Vera
£1,000 (5 of 15) - Not Timed
In which profession are 'habeas corpus', 'affidavit' and 'subpoena' everyday words?
• A: Medical
• B: Teaching
• C: Legal
• D: Politics
£2,000 (6 of 15) - Not Timed
Of which film series is the character John McClane the hero?
• A: Lethal Weapon
• B: Highlander
• C: Die Hard
• D: Halloween
£4,000 (7 of 15) - Not Timed
Which English county was traditionally divided into Ridings?
'Ask the Audience' lifeline used
• A: Lancashire - 6%
• B: Cumbria - 5%
• C: Chesire - 6%
• D: Yorkshire - 83%
The klaxon called time on £4,000 and Calum would return next evening with 2 lifelines still available.
£8,000 (8 of 15) - Not Timed
Which performer had a backing group called 'The Crickets'?
• A: Eddie Cochran
• B: Bill Haley
• C: Billy J. Kramer
• D: Buddy Holly
£16,000 (9 of 15) - Not Timed
The world's first passenger railway ran between Stockton and which other town?
'Phone a Friend' lifeline used
• A: Hartlepool
• B: Carlisle
• C: Scarborough
• D: Darlington
Calum didn't know, so he phoned his friend Graham, who was 100% it was Darlington. He went with it, and won £16,000.
£32,000 (10 of 15) - Not Timed
Edward Kennedy is a senator for which state?
'50:50' lifeline used
• A: New Hampshire
• B: Maryland
• C: Vermont
• D: Massachusetts
Calum was unsure, so he took 50:50, which left him with A and D. He was leaning towards Massachusetts, but, lifeline-less, he decided to walk away with £16,000. The correct answer was actually D: Massachusetts.
Ad blocker interference detected!
Wikia is a free-to-use site that makes money from advertising. We have a modified experience for viewers using ad blockers

Wikia is not accessible if you've made further modifications. Remove the custom ad blocker rule(s) and the page will load as expected.