Chase Sampson
Comments

0
410pages on
this wiki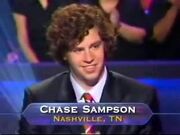 Chase Sampson
, a college student from Nashville, TN, appeared on the US version of Who Wants to be a Millionaire, 27 October 2006, with
Meredith Vieira
, but he answered the first question incorrectly and left with nothing.
His appearance on the show made him infamous towards the Internet.
cracked.com listed Chase Sampson as one of the Top 10 Most Retarded People Of All Time tying 6th with Lovi Yu and Paul Weir Galm who have also left with zero dollars on Millionaire.
The question
Edit
Homeowners buy surge protectors to protect their possessions from unexpected surges of what?
A. Electric current
B. Water flow
C. Air pressure
D. Buyer's remorse
Chase said the answer was B. Water flow, but it was actually A. Electric current.