Elvin Philoman
, a professional musician from Bristol, appeared on the show on August 10th, 2010. He won £20,000, after walking away on the £50,000 question. He said his dream is to become the next big record producer, or the next Simon Cowell. His cousin Sylvia joins him in the audience, and apparently wanted to join him on the show as there might be 'a few quid in it' for her.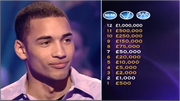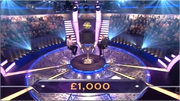 Elvin's Run To The Million
Edit
£500 (1 of 12) - 15 seconds
If an item is said to have fallen off the back of a lorry, it means it is … what?
• A: Old
• B: Stolen
• C: Broken
• D: Lost
£1,000 (2 of 12) - 15 seconds
The brothers John and Edward Grimes are known by what name?
• A: Jed-Grim
• B: E-John
• C: Jedward
• D: J-Ed
A break is taken. Chris and Elvin talk about his work, and the sort of Radio Jingles Elvin writes, which he describes as: "They're as cheesy as possible."
£2,000 (3 of 12) - 30 seconds
The director Guy Richie is most associated with what kind of film?
• A: Musical
• B: Gangster
• C: Western
• D: Historical
Chris asks Elvin how he got into radio, Elvin says his uncle works for the BBC, which got him into the Radio Industry. He says if he wins enough money, he'd like to build a recording studio.
£5,000 (4 of 12) - 30 seconds
Where in your body are your cruciate ligaments?
'50:50' lifeline used
• A: Leg
• B: Arm
• C: Ear
• D: Eye
Elvin thinks it's Leg, but with 17 seconds on the clock, he goes 50:50.
£10,000 (5 of 12) - 30 seconds
Niko Bellic and Catalina are characters in which video game franchise?
• A: Battlefield
• B: Grand Theft Auto
• C: Halo
• D: Sim City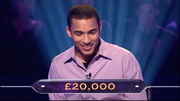 £20,000 (6 of 12) - 30 seconds
Didier Drogba plays international football for which country?
• A: Algeria
• B: Ivory Coast
• C: Namibia
• D: Chad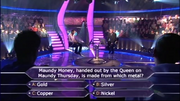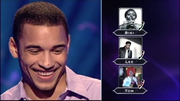 £50,000 (7 of 12) - 30 seconds
Maundy Money, handed out by the Queen on Maundy Thursday, is made from which metal?
'Ask The Audience' and 'Phone-A-Friend' lifelines used
• A: Gold - 6%
• B: Silver - 44%
• C: Copper - 23%
• D: Nickel - 27%
Elvin chooses to ask the audience with 23 seconds left. 2 seconds after the clock restarts, Elvin Phones a Friend. His choices are Bisi, Lee, and Tom. He phones Bisi. Chris talks to Bisi about her extremely long fingernails. Bisi says she isn't sure, but thinks "it's gold or something". Elvin says his original instinct was Silver, which the audience agreed with, but he isn't confident enough, so takes £20,000 back to Bristol. Both Elvin and the audience would have been correct. Silver was the right answer.