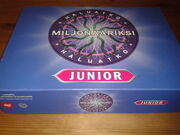 Haluatko miljonääriksi? Junior
is a
Finnish
Millionaire-related board game made by Brio AB and released in 2001. The game is made for 2–5 players or teams, for players 8–14 years of age.
The box contains 5 question-and-answer card consoles, 600 game cards (580 question cards and 20 'Ask the Audience'/'Phone-A-Friend' cards), fake money, 15 lifeline tokens, and the instructions.
Ad blocker interference detected!
Wikia is a free-to-use site that makes money from advertising. We have a modified experience for viewers using ad blockers

Wikia is not accessible if you've made further modifications. Remove the custom ad blocker rule(s) and the page will load as expected.