Jyrki Pitkäjärvi (9 November 1956 – 30 November, 2010), a senior inspector from Helsinki, was a contestant on the 2000 autumn season of the Finnish version of the show on 5 and 10 November, 2000. He walked away with 350,000 mk, having decided to walk away in the 14th question, making him one of the most successful contestants in the Finnish version. He is one of the four contestants (alongside Markku Rikola, Janica Halminen, and Antti Ahonen) who have seen the 14th question in the Finnish version.
Jyrki was also a contestant in Maailman ympäri quiz show (video) on 20 September, 2002.
WWTBAM Run
Edit
Fastest Finger First
Edit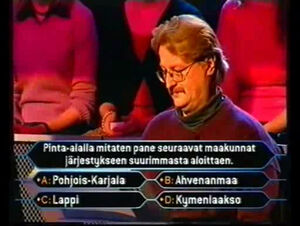 Fastest Finger First question
In terms of surface area put following provinces in order, starting with the largest
• A: North Karelia
• B: Åland
• C: Lapland
• D: Kymenlaakso
From the 6 contestants, 5 got it right, but Jyrki (with a time of 5.66 seconds) was the fastest to correctly answer C-A-D-B, making it into the Hot Seat.
Jyrki's (Partial) Run to the Million
Edit
350,000 mk (13 of 15) - Not Timed
What is the 20th word of 'Maamme'* song's first stanza?
*Maamme is the Finnish national anthem
• A: Homeland (Kotimaa)
• B: Northern (Pohjoinen)
• C: Land (Maa)
• D: This (Tää)
500,000 mk (14 of 15) - Not Timed
Which of these four is NOT a member of pop band Tiktak?
• A: ?
• B: ?
• C: ?
• D: ?