Welcome to the Who Wants to Be a Millionaire Wiki, a wiki all about the series that started in 1998 in the United Kingdom that offers large cash prizes for correctly answering multiple-choice questions of increasing difficulty.
Useful links
Edit
To-do list
Edit
These are some things you can help us with:
May be done in some near future
Edit
Create some sort of Daily Question with a random question from any contestant run.
Set up a way to have featured pages.
Featured Article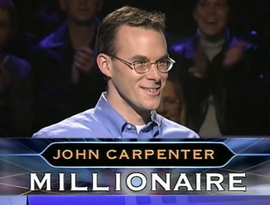 John Carpenter, a tax collector from Hamden, Connecticut, was a contestant on the U.S. version of the show on November 18-19, 1999. He was the first American contestant to win $1,000,000.
He held the record for the largest single win in United States game show history, until it was broken by Rahim Oberholtzer who won $1.12 million on another U.S. quiz show, Twenty One. Carpenter was also the first top prize winner among all international versions of the Who Wants to Be a Millionaire? series.
Featured Videos